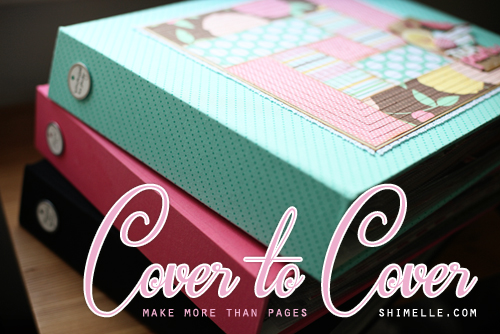 I am super excited that Shimelle Laine's new course Cover to Cover started yesterday. I have been looking forward to it for the last couple of weeks.
I opened my first email this morning and we have homework! The course is designed to help find a way to make your scrapbooks really tell your story. This means looking at the way they are organised, how the flow works within each volume and ways to make them really reflect the author. Exciting stuff!
Our first task is to describe our system. Mine is pretty basic. My day to day scrapping is covered by Project Life. I am about two thirds of the way through my first album. Obviously it is chronological and contains both the boring day to day minutiae and the big events such as trips and birthdays. It is the album I feel is most complete and I am happiest with. I also have one full album of all my 12 x 12 layouts ( I have only been scrapping for about 18 months so I don't have a huge quantity of layouts - maybe 40). The layouts are placed in here in order of completion so they are all over the show in terms of subject, time of event etc. I also have another empty album waiting for me to start transferring some layouts into as I decide how I am going to sort my Layouts in future. At this point I am leaning towards annual chronological albums of layouts I have completed along with a wedding album, baby's first year album for my daughter and a holiday album to keep all our vacation pictures in one place. I have three Amy Tangerine camera albums on order at the moment too to help sort things further. I just use AC 3 ring albums. There is currently no flow or story within my non PL album and this is certainly something I need to work on.
Shimelle's idea of a chronological album for each year with additional major events albums makes a lot of sense to me. I have added the trips album in, as living in Singapore there are very few months that we don't go somewhere in the region and I think it is nice to keep those photos together. I love Shimelle's idea of including one layout from these events in the bigger album and then referencing the larger collection.
The final thing we need to do is include a photo of our current system. I think I will have a serious case of inferiority complex seeing all the large collections of albums but I know that will be me one day and I know that after this class I will be getting there in a much more organised fashion!
Please excuse the less than fantastic photo - with toes intruding at the bottom and odd lighting. Monkey is napping and I am a bit restricted where I can be while she sleeps! I just found two finished layouts sitting loose in the front of my album too tut tut! I have also included a couple of completed mini albums - my December Daily and my Learn Something Every Day from last year.
Anyhoo, I am thrilled to be making a start and I have some ideas just percolating away at the back of my mind which I am hoping will become more focused as the class moves on.
If you are interested in signing up head to
Shimelles's site
. I think the class should be a cracker!