I am struggling to keep up with my blog reader. I am one of the dinosaurs who loves Google Reader and I am really sad that it is disappearing later in the year. I still haven't decided where to transfer my blog list to - I have heard good things about Feedly but I have not had time to look into it any further. The reason that I mention this is that I am about five posts behind Shimelle Laine's blog at present. I thought this sketch was quite current but alas it isn't so. On the upside, I have a lot of great posts to look forward to if I ever get the chance to catch up.
The sketch I was drawn to was this one.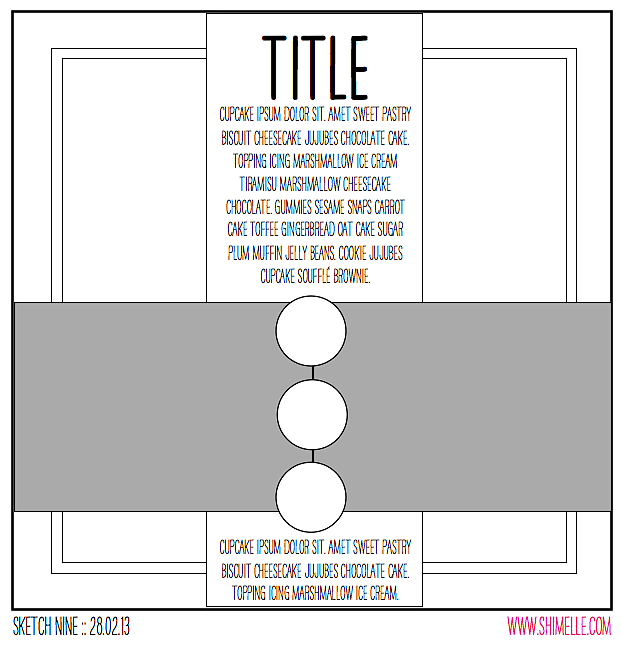 It is lovely and simple but with room to play. Just the way I like it!
Here is my take. I kept pretty much to the sketch although my photos were a bit smaller than 4 x 6. In lieu of patterned paper, I used a double strip of the gorgeous ombre washi that came with my Studio Calico February kit, Front Row. The colours from the tape blended so nicely with the patterned papers from the kits and helped showcase all the gorgeous tropical greenery at Fort Cornwallis. I love the AC Kitten Thickers on this layout too. It all just makes my heart happy. I suspect I may go back and outline the Penang at the very bottom of the layout as it is getting a little lost on the tape.
These photos are from our trip to Penang with my Dad last year. We visited Fort Cornwallis on the first day I felt halfway human. It was a nice little outing and it was good to see more of Penang than the beaches and great restaurants. There was a very sweet little cemetery there with graves of the early European settlers. The tropical climate was very hard on the women and children and it was really quite poignant.
By the time this post goes live I will be in Malaysia having a short break in Kuala Lumpur. For those who celebrate, have a wonderful holy season and for those who don't, enjoy your long weekend. We hope to.