I have just finished putting my layouts from the past week into sleeves in anticipation of popping them into my album (yes I only have one full of layouts so far). The amazing thing is I completed eight layouts in the past week as well as three more pages of Project Life! This is by far the most productive week I have ever had in scrapbook terms. I am so excited!
I still have a few layouts to share of this eight fortunately. The one I want to share today is from our trip to Japan in 2011. I have only really started scrapping photos from that trip recently.
Something bright and cheerful for a Tuesday morning! These photos were taken at a famous temple in the centre of Tokyo. This was our only full day of sightseeing as the next day the 9.0 mag earthquake struck and our plans for the rest of our trip were a little disrupted.
I am a wee bit excited by this layout as it is the first time I have used a mask. It came with my April SC kit and I used a Mr Huey mist to try it out. I was not entirely sure about using this vibrant green as a background but the photos popped on this colour more than anything else so I went with it.
I have loved the April kit. Not only have I made 8 layouts from it so far, there looks to be enough left to make at least another three or four. Exciting!
I have also signed up for a class starting in May with Shimelle Laine called
Cover to Cover
. It is a class about finding good ways to organise your albums and perhaps to think about a theme or colour way for your particular albums. I am at the point of needing to decide a way to divide up my album and I also feel confident enough in my own ability to look at starting a first year album for Scarlett and to scrap some of our wedding photos. I am hoping this class will give me some helpful pointers.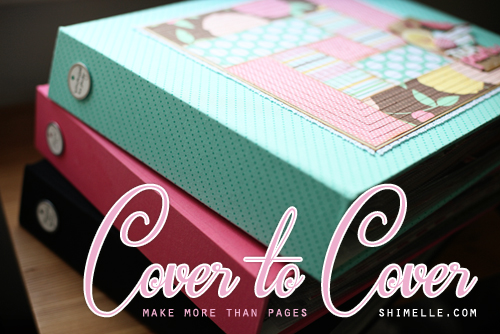 Right well I must fly. I am making pumpkin and ginger soup as Miss S is sick yet again! She is napping now and I am hoping some delicious soup might raise her spirits when she wakes up. Have a very happy Tuesday wherever in the world you may be.