After a terrible couple of hours randomly pushing papers round and searching for photos I gave up. I came back to the same papers and photos after Scarlett went to bed and was able to make something work. It is funny how the inspiration hits you.
Once again it was a Shimelle sketch that helped put the pieces together. I looked at this sketch in the morning but it didn't seem right. Ten hours later it was just what I needed.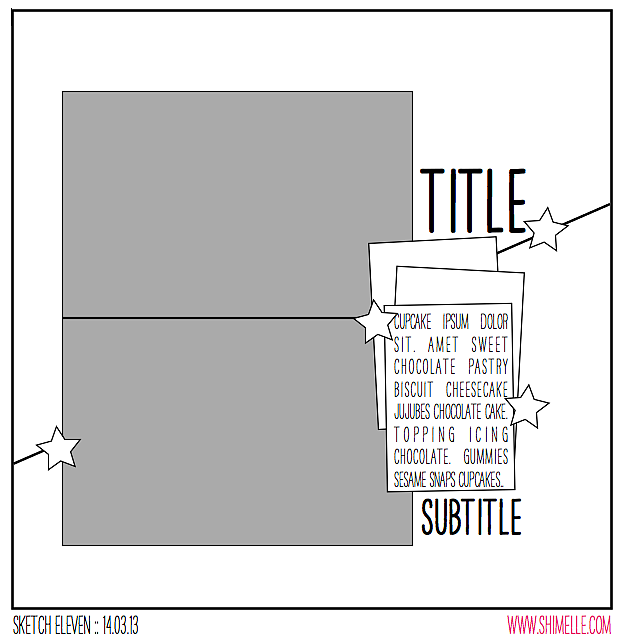 I fell in love with the Tim and Beck paper that I have used in this layout so I wanted to be able to show off a big chunk of it and this sketch made it possible.
The papers for this layout came from the Studio Calico Neverland kit and the Tink add on. I added a couple of cards from my Project Life card stash and cut a piece of the anchor paper from the SC kit. A few sequins, a Basic Grey sticker and the gorgeous ombre lettering and the layout was done.
These photos are from our trip to Penang last year. I am starting to think that they were from a sunrise rather than a sunset as we were on the Eastern side of the island but the thought was there! It was such a restful outlook from our apartment there.
This morning has been anything but restful. We have been nurturing a tame gecko in our hallway but woke to find that our cat had killed it. Miss Three also woke up with a cough and a runny nose so I have kept her home for the day. My plans for getting much done have evaporated and all before six am! I am hoping that I might be able to work on some Project Life while MT is resting. If she rests of course!
I hope you have started the day in a less eventful fashion!