I have really missed Shimelle's Sketch to Scrapbook pages lately so was thrilled to see a new example pop up in my Feedly screen. This week's offering was a simple sketch and I had a photo that I really wanted saved just the right size.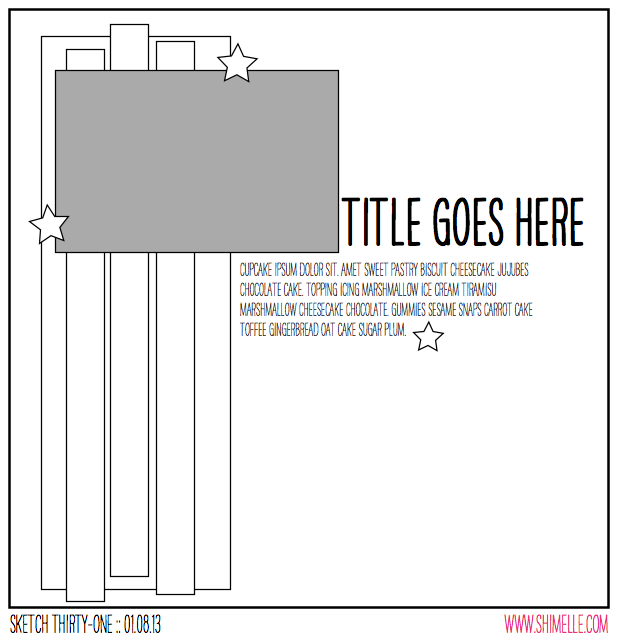 As you can see it is a really versatile sketch and really good if you have a bit more to say. I swapped my journalling location around, in part because I like the ombre effect in the lower part of the patterned paper. Otherwise I kept pretty faithfully to the sketch.
This photo was taken on a Daddy/daughter outing that Miss Three and hubby went on a few months back. I love MT's outfit and expression in the photo as well as the location of the shot so I knew I wanted it in my album. The paper choice was driven by the colours in the photo and everything else fell into place pretty quickly.
I had avoided the temptation of the Freckled Fawn embellishment kits until the November offering. I just adore the scout badges and the little wooden houses that I ordered at the same time all worked in with the theme of the story.
I wonder if typed journalling would have perhaps looked a little better but I really like the immediacy of handwritten words even if they are not always as beautiful.
We have started to embrace the Christmas season. Our tree is up and we did some Christmas crafting last week. Such fun! Now we just need to finish ordering our presents for the folks back home and we can relax and enjoy the season. I am not doing anymore than Fat Mum Slim's photo prompts and reading the prompts from Shimelle's JYC this year. We are not travelling over the holiday period and it is just the three of us for Christmas Day so I don't think there will be enough going on.
I am hoping to take MT to see Frozen on Wednesday as a Christmassy treat. The reviews I have seen have been excellent and she is really looking forward to it.
How are you celebrating the season? Are you doing any major Christmas crafting projects? I would love you to link them up so I can check them out.